Human traffickers in Asia victimized 1,100 women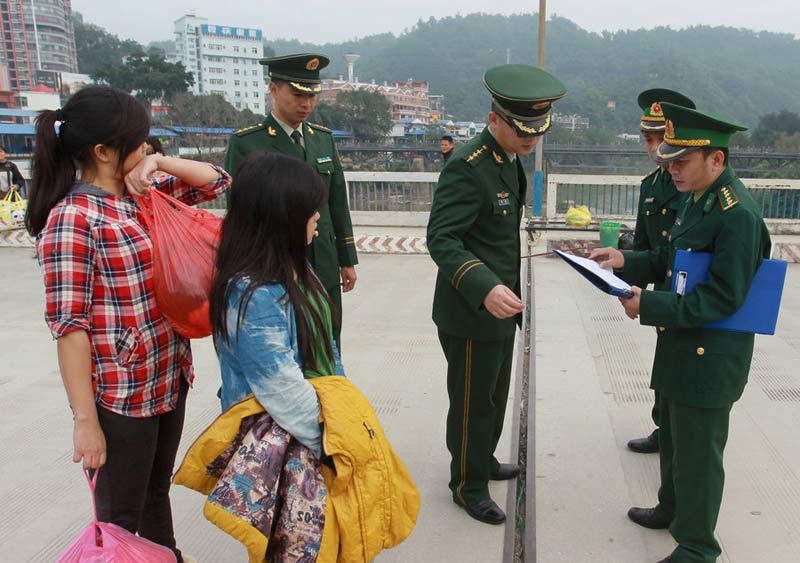 Chinese police, together with their counterparts in Myanmar, Cambodia, Laos, Vietnam and Thailand, cracked human trafficking and marriage fraud cases involving more than 1,100 foreign women who were sold to buyers in China, the Ministry of Public Security announced on Friday.
Authorities also arrested 1,332 suspects in the cases, which were part of a special campaign last year.
Most of the women were abducted or tricked into going to China and then forced to marry local men or offer sex services, officials said.
Among them, 530 have returned to their home countries. The others, who said they wished to remain in China, have been given legal status after going through proper cross-border marriage registration procedures, according to the ministry.
The efforts targeted people in China and other countries who collaborated in trafficking women.
"Such practices have not only seriously harmed the legitimate rights of these women but also fostered crimes such as smuggling, illegal marriage and fraud," Guo Lin, a ministry spokeswoman, said at a news conference on Friday.
Police from the six countries conducted a joint campaign from July to December.
During the campaign, 634 human trafficking cases were uncovered and 1,130 suspects, including 153 foreigners, were arrested.
Also, 126 marriage fraud cases were uncovered and 202 suspects, including 109 foreigners, were arrested, according to the ministry.
At the news conference, officials cited five typical cases.
Liu Zhongyi, head of the ministry's Criminal Investigation Bureau, explained how such crimes usually happen: Chinese suspects collude with their foreign accomplices to deceive women, who usually are between 20 and 30 years old, offering them good-paying jobs in businesses such as tourism or good marriage prospects.
Then they assist the women in entering China illegally and send them to their Chinese accomplices, who offer lodging, transport them to different parts of the country and force them into illegal marriages or prostitution.
Chen Shiqu, deputy director of the bureau, said the price for each woman who was sold ranged from 100,000 to 180,000 yuan ($14,545 to $26,180), based on age, appearance and nationality.
He said the Chinese police were careful to protect the legitimate rights of the women and distinguish them from those who illegally crossed Chinese borders for other purposes.
Those who wished to stay were allowed to do so only after legalizing their marriages and their residence status.
Chen said China has signed bilateral agreements on fighting human trafficking with Myanmar, Cambodia, Laos, Vietnam and Thailand.
Also, China has established eight border offices with the neighboring countries, including four with Vietnam, to assist in curbing human trafficking.
The ministry said the Chinese police would continue to pay close attention to such crimes and encourage members of the public to report suspected cases.
Punishments also will be increased for Chinese buyers, according to the ministry.