Stickhandling to respectability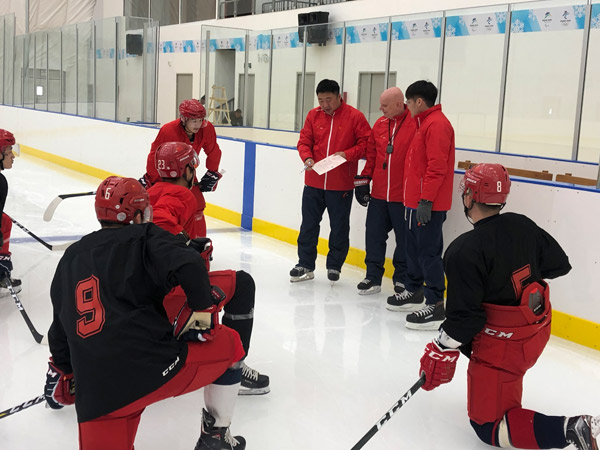 Puck will drop on China's first national collegiate championships in November
Despite limited participation and a lack of facilities, China is determined to have ice hockey embedded in its collegiate sports system as a destination for talent being nurtured in the junior ranks.
The establishment of China's first college ice hockey championships, announced in Beijing on Wednesday, is expected to drive burgeoning junior participation in the sport to new heights by offering youngsters the opportunity to combine their love of the game with academic advancement.
The round-robin championships will be staged in November at suburban Beijing's Aozhong Ice Sports Center, with about 10 colleges, including the renowned Peking, Tsinghua and Renmin universities in Beijing, competing in two divisions-"advanced" and "ordinary".
The Federation of University Sports of China, the country's governing body of collegiate sports under the Ministry of Education, also revealed a plan to expand the tournament into a home-and-away league competition involving more schools next year.
"The challenge to organize a major national collegiate tournament based on niche participation is huge, but certainly worth trying," said Xue Yanqing, vice-president of FUSC.
"The level of play won't be good and the facilities are not yet enough... but to get everything started is all that matters for us developing the sport," Xue told China Daily on Wednesday.
"Without a collegiate system, children who have grown interested in playing hockey at the junior level won't take it seriously when the time comes to go to middle school, where other sports boasting further education opportunities will take over."
The championships will be operated by AZ Sports, the sports affiliate of Beijing-based ORG Packaging which has been active in promoting hockey in China by funding a Chinese club in Russia's secondary Supreme Hockey League and sponsoring the National Hockey League's preseason China Games.
With the physical nature of the sport and its reliance on teamwork appealing to Chinese parents, ice hockey's popularity among primary students has taken off, as evidenced by the long lines of kids at shopping mall rinks who are anxious to learn fundamentals of the sport.
According to the Beijing Hockey Association, more than 4,000 children have registered in its competition system, while 2,600 on 199 teams competed in its 2018-19 junior league.
However, most youngsters have to give up playing or move to North America, where youth hockey is rooted in the education system, due to the lack of a progressive pipeline in China.
"It's really a waste of talent because we haven't put together a system where they could continue playing while attending ordinary schools," said Xing He, deputy secretary-general of the BHA.
Without schools involved, the country's national hockey program traditionally draws talent from a thin pool contributed to by a limited number of State-run training centers in the northeastern Heilongjiang and Jilin provinces.
Although it will be years before the collegiate system starts to pay dividends, it's a remarkable first step in the right direction, said Zhao Xianglin, president of AZ Sports.
"It will at least send a strong message to children and their parents that hockey has been recognized by the country's education authority as an advocated event on campus. It's a big difference," he said.
According to Xue, who is also the secretary general of the Ministry of Education's student sports association, the ministry is considering offering hockey-specialized students preferential policies, such as extra points added in their high school admission or college entrance exams, to encourage their commitment in developing the sport domestically.
"Facility-wise, I don't think it's a big challenge as long as we have enough students dedicated to playing the sport. Chinese universities are financially capable of quickly building ice rinks," he said.
Tsinghua University is building an indoor ice sports center featuring a standard hockey rink, which is due to be completed in 2022.
Having qualified for the 2022 Winter Olympics hockey tournaments as host, China is pursuing a tall task to contend for a medal on the women's side while performing respectably in the men's event, although its female team currently ranks world No 20 and the men's is world No 32.
Xue said it's more practical for the country to put together competitive teams on both the men's and women's side at the biennial Winter Universiade.
"Hopefully, we can watch our own teams competing on ice at the university games very soon, while our collegiate competitions keep maturing," Xue said, citing China's absence from the hockey tournament at the Winter Universiade in Krasnoyarsk, Russia, in March.